The two greatest days of your life are
the day you were born
and the day you discover WHY.
– Mark Twain
Our Purpose
Is to Help You Answer I KNOW …
Had I the heavens' embroidered cloths,
Enwrought with golden and silver light,
The blue and the dim and the dark cloths
Of night and light and the half light,
I would spread the cloths under your feet:
But I, being poor, have only my dreams;
I have spread my dreams under your feet;
Tread softly because you tread on my dreams.
Tread softly around our children's dreams (thankyou Sir Ken)
I know what I want to be.
My life is a gift, my gift is me.
Vocational Inspiration for Young Australians
What's Your Story?
We all know of a Bloody Clever Australian.
Tell us their story to inspire others.
Billie and Emoo
Who gives a 'flying pig'  about your issue?
Billie and Emoo do.
Share your thoughts..
Flying Pig SHOP
Pigs Can Fly
The education revolution
needs resources for teachers and parents.
We are NOT a charity.
Come shopping and wear your support
Meet some of our Bloody Clever Australians …
Read stories about Bloody Clever Australians.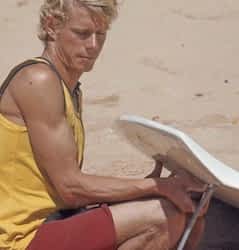 Midget Farrelly was the 'first man' to win the first official surfing world championship at Sydney's Manly Beach in 1964, and dominated the sport throughout the decade. Midget was a 'water baby', craftsman, leader and visionary. He grew up and lived in paradise on the...
read more
Shop – Make every day Australia Day
Do you know
what you want to be?
We'd love to hear if you know what you want to be?   Why not take our poll and see how others feel too.